Teeth have a huge impact on a person's appearance. Beautiful white teeth are a sign of health, youth and self-confidence. On the other hand, missing, worn, discolored or defective teeth affect appearance, health and quality of life.
Aesthetic dentistry is a branch of dentistry that deals with the appearance and aesthetics of teeth. On aesthetics at Dental
does not only include beautiful white teeth, but also healthy gums and the harmonious function of the rows of teeth in the upper and lower jaw.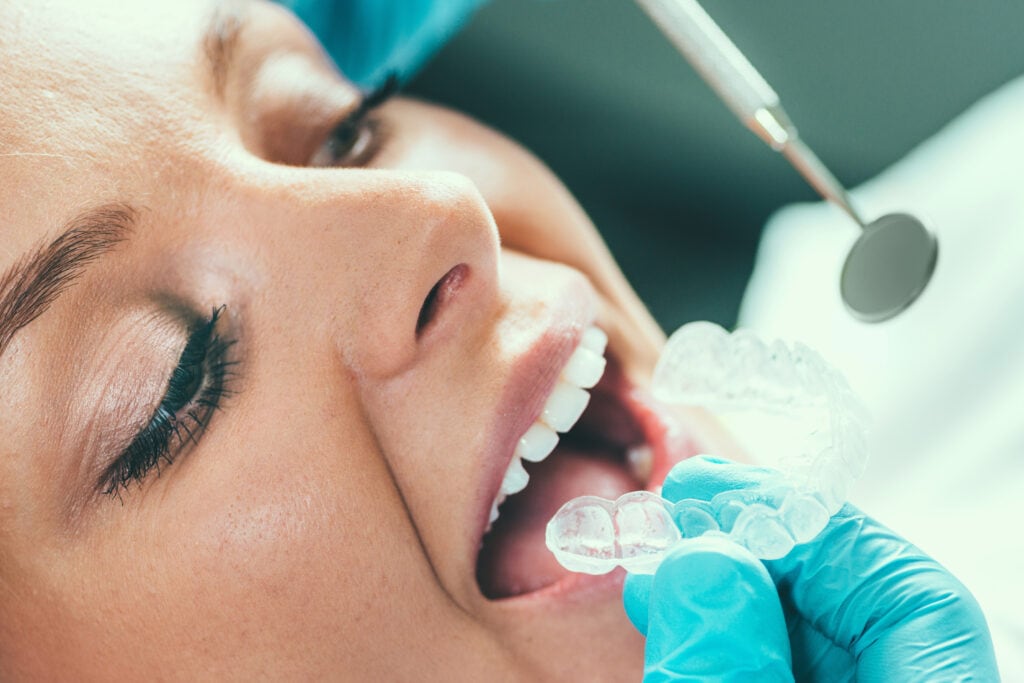 The correction of tooth gaps, discolored and crooked teeth and unsightly fillings are the subject of dental aesthetics. In our dental practice, we correct misalignments or do gentle cosmetics.
To the Dental aesthetics To improve our patients, we use various techniques. The most popular nowadays are bleaching, veneers and splints:
whitening: Teeth whitening is particularly popular and is now widely known. By this we mean teeth whitening for cosmetic purposes. Certain stimulants such as coffee, red wine or tobacco leave a yellow-brown film or even stains on the teeth over time. Since a bright white smile is considered the ideal of beauty, many patients are bothered by the discoloration and opt for professional teeth whitening to remove it.
veneers: Veneers sind eine beliebte All-in-One-Lösung für alle, denen eine Zahnaufhellung oder -reposition einfach nicht ausreicht. Veneers aus Porzellan, in besonders glatter Form Lumineers genannt, werden auf die Zähne aufgebracht und decken so eine Vielzahl von Defekten ab. Im Gegensatz zu Mosaiken, bei denen auch Keramik verwendet wird, befinden sich Veneers auf der Vorderseite des Zahns. Sie können für einen Zahn oder für alle Front- und Seitenzähne verwendet werden.
Mit Veneers kaschieren Sie:
🦷 Discoloration & Stains
🦷 Tooth misalignments
🦷 Forms perceived as unsightly (quirks, gaps, short teeth, etc.)
tooth splints: A custom-fitted clear plastic orthosis, called an orthosis, is suitable for correcting mild to moderate deformities in adolescents and adults. They are very discreet and an aesthetic and metal-free alternative to many conventional devices.

The treatment principle is based on the gradual movement of the tooth to the desired final position. Different types of braces are used one after the other. The brace should be worn for 2 hours and should only be removed for oral hygiene and feeding.
Convince yourself of our techniques and our practice and book one now meeting, easily online. We look forward to you!
Current information on other topics
Dental implants are the optimal functional and aesthetic therapy to replace lost teeth. A single tooth can be replaced on the implant or, in the case of an underbite, the entire prosthesis can be attached.
Continue >
You can take good care of your own teeth. Professional teeth cleaning is essential for healthy teeth.
Continue >
Root canal treatment (also called root canal treatment) is a dental procedure to preserve dead or infected teeth.
Continue >