Functional and aesthetic dentures
Dental implants are the optimal functional and aesthetic therapy to replace lost teeth. A single tooth can be replaced on the implant or, in the case of an underbite, the entire prosthesis can be attached.
dental implants can be thought of as artificial tooth roots, which patients like to compare to a "needle" used by artisans simply because of their appearance. In toothless areas of the jaw, implants can be anchored directly in the jawbone. Such implants are called immovable implants, they are used almost exclusively today.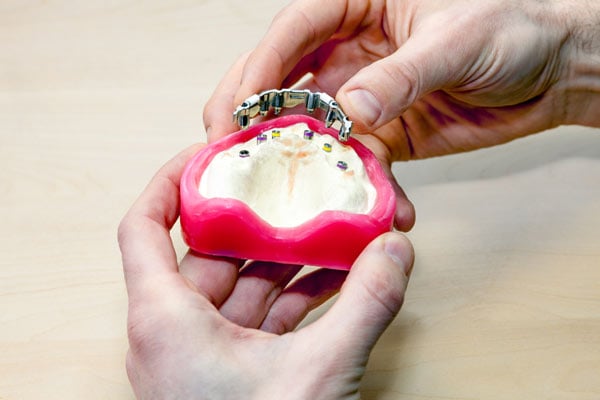 An implant usually consists of three parts: the implant body anchored in the bone and the tooth neck attached to it and the tooth crown.
Are you wondering why you should choose an implant?
🦷 Fixed teeth instead of wobbly dentures
🦷 Additional pillar
🦷 Protects your own teeth
🦷 Long durability
🦷 Preservation of the jawbone
Nowadays there are many different ones implant systems. All recognized implant systems have the cylinder, the screw or the root in common. The difference lies in the design, the surface of the implant and the type of connection between the implant body and the prosthesis attached to it. The traditional wing implants of the past are not as important today. In the 1970s, these implants were placed where bone was still present. These implants are not very suitable in the front tooth area and for replacing a single tooth. Implants are used where they are necessary from a prosthetic point of view in order to achieve a tooth replacement that is as natural as possible, especially in the area of ​​the front teeth. Modern implant systems have greatly expanded the therapeutic options and, in principle, allow individual teeth to be replaced if they are lost.
Convince yourself of our techniques and our practice and book one now meeting, easily online. We look forward to you!
Current information on other topics
Unsightly discolouration of the teeth - who doesn't know them? Professional tooth cleaning in Munich Unsightly discolouration of the teeth can also be caused by external influences with proper dental care
Continue >
Root canal treatment (also called root canal treatment) is a dental procedure to preserve dead or infected teeth.
Continue >
Teeth have a huge impact on a person's appearance. Beautiful white teeth are a sign of health, youth and self-confidence.
Continue >